2022 Elske v.P. Smith Distinguished Lecture [video]
Sept. 26, 2022
Did you miss the lecture? If so, check out the recording of Andrew Murphy's "Theorizing Political Martyrdom: George Floyd, Ashli Babbitt, and the Crisis of American Democracy."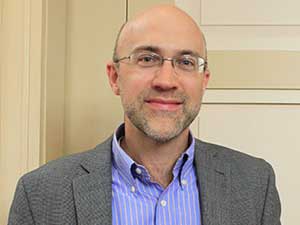 The Elske v.P. Smith Distinguished Lecturer recognizes an outstanding professor in the College and was established in honor of retired faculty member and former dean of the College of Humanities and Sciences, Elske v.P. Smith, Ph.D. The annual lecture is intended to welcome faculty, staff, students, the community and friends. The lecture is free and open to all.
This year's lecture was held on September 21.
Speaker
This year's lecturer was Andrew Murphy, Ph.D., former professor in the VCU Department of Political Science and current professor of political science at the University of Michigan. He studies the emergence of religious liberty and liberty of conscience in early modern England and America, and the ongoing ramifications of these debates as they continue to unsettle American politics.
Abstract
George Floyd and Ashli Babbitt died just over seven months apart: Floyd on a Minneapolis street corner in late May 2020, Babbitt while attempting to enter the Speaker's Lobby through a shattered window during the January 6, 2021 assault on the U.S. Capitol. Their deaths reverberated across the nation in powerful ways, with viral images and voluminous commentary circulating almost instantly, and rival social movements attempting to discern broader meanings in their respective deaths. Many of the participants in these discussions invoked the imagery of martyrdom, variously presenting Floyd's and Babbitt's deaths as pointing to something larger than themselves. But what makes a martyr a martyr?
Video