Faculty Profile: Andrew Moon, Ph.D., Department of Philosophy
Jan. 6, 2020
"Philosophy thrives in community—it's about bouncing ideas off of one another, disagreeing, thinking of better arguments."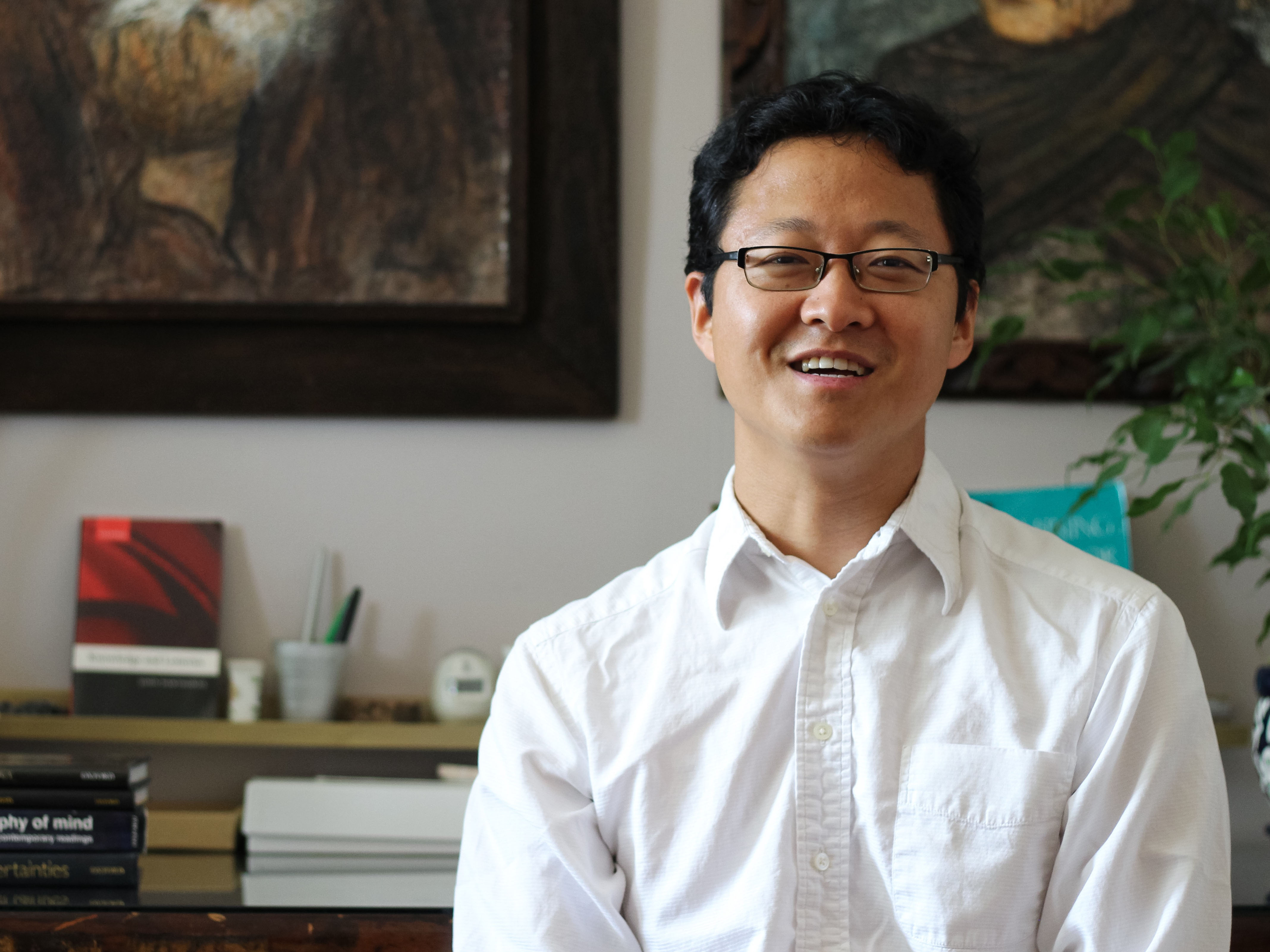 Andrew Moon, Ph.D., an assistant professor in the Department of Philosophy, was supposed to be an engineer. He thought his father would be proud; after all, his father held a Ph.D. in engineering. "When I told my dad, he said, 'Why would you want to do that?'" recalls Andrew, laughing. When Andrew got to Ohio State, he had an engineering class and an intro to philosophy class. "I loved the philosophy class. I really enjoyed discussion with my professor. I was the kid up at the front with my hand raised," explains Andrew. "I was so bored in engineering. I realized that I needed to switch my major." Andrew enjoyed philosophy so much that he graduated with 90 credits in philosophy classes alone, double what was required. Andrew's dad ended up being a huge supporter. "When I told my dad that I decided to be a philosophy major, he said, 'You know, when I was a young man in Korea, I wanted to be a philosopher,'" says Andrew. "This really encouraged me, making me feel, somehow, like it was in my blood to be a philosopher! It also made me feel more connected to my dad."
In 2010, Andrew received his Ph.D. in philosophy from the University of Missouri and entered the job market. He first interviewed at VCU in 2013. "I didn't get the job," says Andrew. "I was young and inexperienced." Andrew spent the next five years teaching at universities across North America—Kansas State, Dalhousie, Rutgers and Notre Dame. When a position opened at VCU in 2017, Andrew reapplied. "All that traveling and experience was really good for me. I strengthened my CV and got more publications under my belt. I also met my wife." It paid off: VCU was one of three tenure-track job offers he received that year. "VCU has really good and serious philosophers. Philosophy thrives in community—it's about bouncing ideas off of one another, disagreeing, thinking of better arguments. The department has strong faculty, really sharp and good to talk with," says Andrew.
Andrew's specialty is in epistemology, the study of knowledge, and investigates what distinguishes justified belief from mere opinion. He is currently working on a project about whether religious belief or belief in God can be rational. "One assumption among academics is that in order for religious belief to be reasonable or rational, you need a good proof. But there are a lot of beliefs that are reasonable even if you don't have proof for them," explains Andrew. "If someone says 'I feel God with me right now," could that be justified in a similar way as 'I see a table in front of me?'" This work builds on a series of lectures that Andrew presented in Brazil this past summer through the John Templeton Foundation and research fellowships in philosophy of religion at Rutgers and Notre Dame.
At VCU, Andrew teaches classes on ethics, critical thinking, philosophy of religion and epistemology. A part of teaching he values is seeing his students learn to consider arguments for perspectives other than their own, especially on divisive issues. "Philosophy is about evaluating arguments for and against views about deep and important issues, with the goal of rejecting what is false and determining what is true. In my ethics class, where we consider issues like gun control or abortion, I challenge students to consider carefully the best arguments against their views," he explains.
"I want my students to walk away thinking, 'You know, many of the people who disagree with me are not idiots. I understand better why they hold the view they do, even though we disagree.' When I see them engaging in this process, I feel rewarded as a teacher."
These skills—the ability to think critically about a topic by developing and evaluating arguments—are just some of the reasons that Andrew believes a philosophy degree is meaningful. "Data suggests that the thinking learned in philosophy will help you in graduate school admissions and nearly any job that requires critical thinking. However, we should resist the temptation to base a major's value solely on whether it will get you a job," he says. "I see a lot of people blindly believing the views of their peer groups or political parties. In philosophy, you get to put your views to the test by clarifying them and developing arguments for and against them, with the goal of seeking truth. There is value in asking questions about one's religion, ethics, and life. What does it mean to be human? What is a just and good society? What happens after we die? By thinking critically about these questions, you become a more well-rounded person and a better citizen."