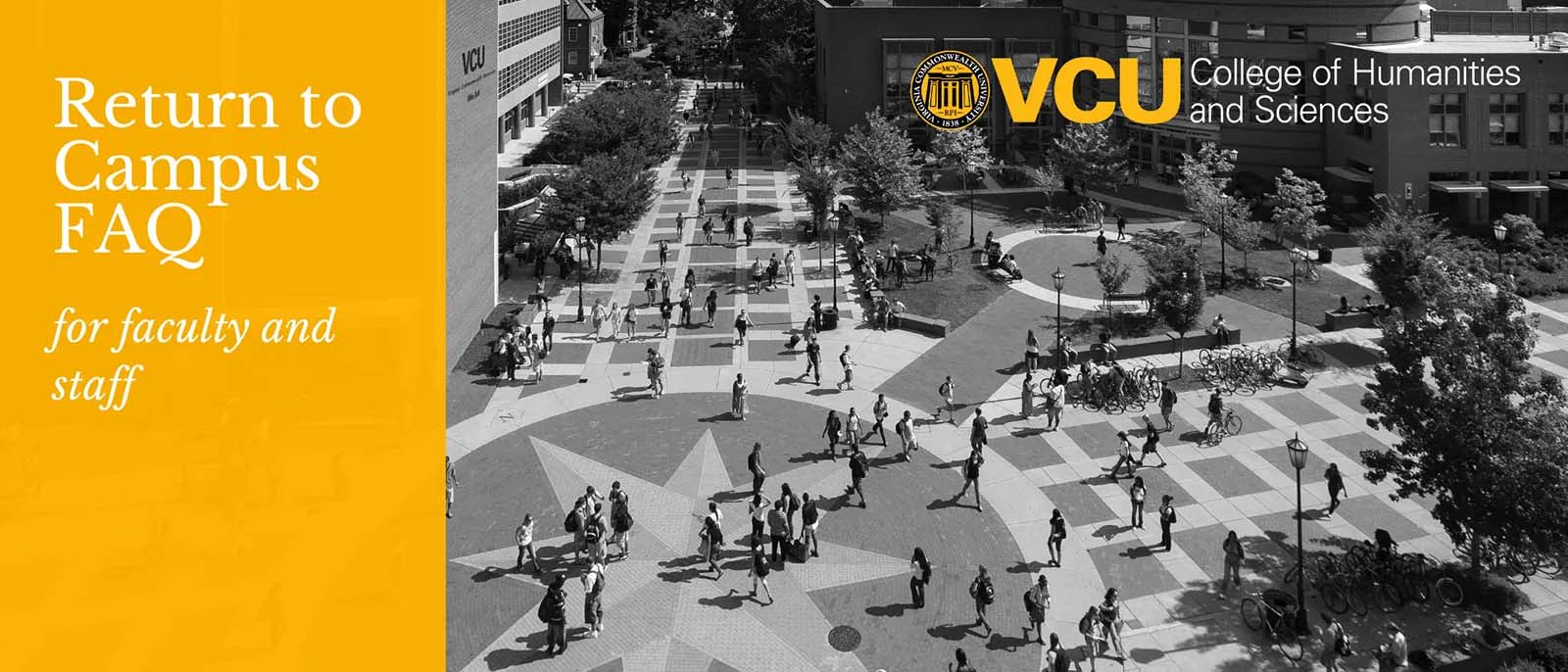 Return to Campus FAQ
The CHS Dean's Office has created this webpage to provide you with answers to your Return to Campus questions that are CHS-specific and not already answered on the One VCU: Responsible Together website, the main repository for COVID-related and Return to Campus information. As the situation is very fluid, this page may change often. Please keep in mind that some of these answers are not yet official VCU policy; however, they have been assembled from communication with VCU administration.
If you have a question you would like answered, please send an email to Joshua Langberg (jlangberg@vcu.edu) or Danielle Hairston (dnhairston@vcu.edu).
Fall Course Modality
Any faculty member needing to change the modality of the course should contact their department chair/director. Students have already experienced a lot of change and made decisions based on their schedule. We recognize some unique challenges can surface during the semester, but these should be rare changes. (Information from the Provost's Office)
No, you should not give an exam or any other assignment that has a specific required meeting time if the rest of the course is asynchronous. This could result in a conflict with other courses that have scheduled meeting times at that specific time. You could give an option for students to take the exam at the specific time (and encourage students to do so), but should still have the asynchronous option available for students who cannot meet at that time. There should be no special incentive (e.g., extra points) given for students who take the exam at the specified time.
Syllabi and Course Outlines
Classroom Audio and Video Technology
Yes, please see the attached 'COVID-19 Classroom Checklist for Instructors' and keep it as a guide when you are instructing an in-person class.
Additional training on how to use a webcam and supported lecture and video capture software is available at the following link: AltLab Lecture and Video Capture.
The following outside areas across campus are recommended by Network Services for having strong wifi:
Siegel Center near the ticket booths
Depot Annex outside the front door
ICA outside of the cafe and around the front doors
ICA 2nd floor outdoor seating area
WGSHN courtyards
WGSHS courtyards
GBRC 1 courtyard
Cabell Compass area
ALC courtyard
Commons front entrance area
Commons area between Commons and Harris Hall front
Commons area outside of food court
Trani and Oliver courtyard
Johnson old bus stop and areas near bus stop
Temple outside seating areas
Temple by the Trani walkway
Engineering West courtyard
Rhoads and Brandt outdoor seating area
Monroe Park around Round House
Cary and Belvidere courtyard
Singleton courtyard behind Hibbs
Sanger courtyard
Larrick outdoor seating area
School of Nursing courtyard
111 N. 4th St. rooftop
For any CHS computer labs that will remain open for the fall semester, the building manager or departmental lab support person should:
be sure to turn off/unplug monitors that will not be in use
place clear signage on computers that will not be in use
keep CPU plugged in so that HASTech can update systems remotely
If a department/school decides it is necessary to physically move any of their lab computers, please coordinate these efforts with HASTech.
Please note that it will remain the department/school's responsibility to ensure adherence to all of the necessary safety and cleaning protocols for these areas.
School Closures/COVID Disruptions
HR has created a side-by-side document for faculty and staff to let them know what types of leave would be available to them based upon certain circumstances—COVID, school closures, childcare, etc.
The Equity COVID-Response Working Group proposed a plan for remuneration of those who pick up a class if one of their colleagues isn't able to continue teaching this semester. In the past, the College would pay for a graduate student instructor or ask that a colleague finish the course for free. The key contact for the policy is your department chair or school director.
Start-Up Funds
Yes, all faculty with startup fund indexes active in FY21 will receive an automatic one year extension. The extension is one year from the original end date for use of startup funds. At the end of the automatic one year extension, CHS will revert back to the established startup policy. As stated in that policy, faculty have the opportunity to apply for an additional one semester extension in the fall of each academic year. Faculty with the automatic one year extension remain eligible to apply for an additional extension.
Yes. However, all hires at the university must go through the provost exemption committee process. Faculty should send the name of who they want to hire, the time period and the pay rate to the associate dean for research and CHS HR director. This information will be sent to the exemption committee. If approved, the HR director will provide guidance on how to post and interview for the position.
Yes. Summer salary contracts also need to go through the exemption committee. This past year, those requests were approved with some limits. Faculty may be asked to provide an explanation and plan for scholarship to be accomplished over the summer and how long it will take.
In the last two years, the CHS budget has been cut mid-year, leading to earlier than anticipated spending freezes. As long as the budget allocated to CHS for FY21 stays at current levels, CHS will NOT restrict startup spending until June. Across the university, spending is restricted in June in order to allow purchases to process and account balances/deficits to be calculated as required at the end of the fiscal year.
PPE (Personal Protective Equipment)
If you need to refill your PPE (personal protective equipment), visit one of several vending machines around campus (see heading: :COVID-19 supplies vending machines"). Everyone will be allowed a certain number of swipes with their VCU ID per month.
You can also visit Morgan Balch, renovations and space manager, in Blanton House (3rd floor) for extra bottles of the Virex cleaner. She requests that you bring in your empty bottle in exchange for a full one. Morgan is on campus Tuesdays and Thursdays until 1:00 p.m.