CHS welcomes new staff this spring
May 25, 2023
CHS is pleased to welcome Shanika Chattar, Christen Edwards, Melody Falter, Brendan O'Keefe, Donielda Tripp-Leino and Michael Washington.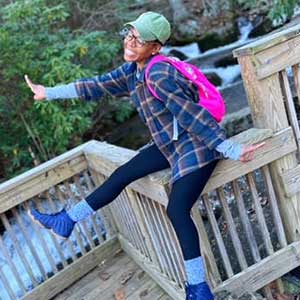 Shanika Chattar joins the CHS in the Office of Student Services as a scholarship coordinator. In this role, she will coordinate scholarship and emergency fund administration, provide support to students awarded college funds, and serve as a liaison to the Student Financial Management Center in the College of Humanities and Sciences. Previously, Shanika worked for VCU's Department of Communication Arts as their administrative assistant.
Shanika is a Richmond native with a B.S. in criminal justice from Radford University. Outside of work, Shanika enjoys spending time with her husband, daughter and son. She loves music, concerts, hiking, gardening, art galleries, thrifting, photography, vineyards, board games, discovering hidden culinary gems, and spending time with family and close friends.
---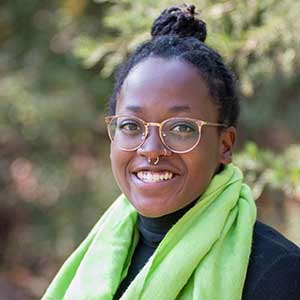 Christen Edwards joins CHS as a project coordinator in the Discrimination and Health Research Lab, housed in the Department of Psychology.
Christen is a Charlottesville native and currently resides in Richmond. She graduated from North Carolina Agricultural and Technical State University with a B.S. in psychology and a minor in early childhood development. She also earned an M.Ed in educational psychology: applied developmental science.
Christen has taught preschool, kindergarten and 5th grade. Her most recent position was as an aquatics manager for SwimRVA. In her free time Christen enjoys bike riding, running and knitting.
---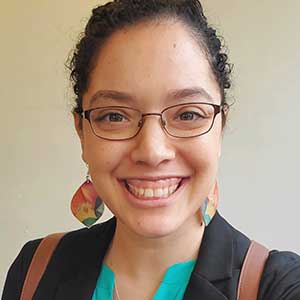 Melody Falter joins CHS as a research assistant in the Center for the Study of Tobacco Products, housed in the Department of Psychology. For the past six years, Melody worked in higher education (Princeton University and Emory University) in the field of university administration and student affairs.
Melody holds a B.S. in psychology from Princeton University. Her thesis was titled "Do No Evil: Examining the Effect of Moral Frames in Climate Change Communication."
When she is not working, Melody enjoys spending time with her fiancée Jayna and their dog Captain. She loves music, the arts and playing recreational sports. She is also a proficient juggler.
---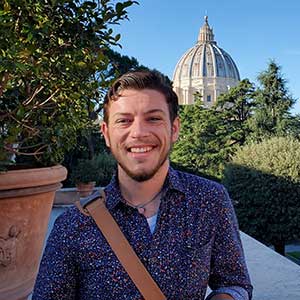 Brendan O'Keefe joins CHS as an academic advisor for the Robertson School of Media and Culture. He is a graduate from Virginia Tech with a B.A. in art history, history, and classical studies, and an M.A. in material culture and public humanities. His research focused on archaeology and ancient Athenian painted pottery. During his undergraduate and graduate studies, Brendan worked with the VT University Studies and Scholarship Support advisors to help advise first-year and transfer students.
Outside of work, Brendan enjoys visiting museums, hiking and playing board games with his partner Caillyn. He's looking forward to getting to know the Richmond area.
---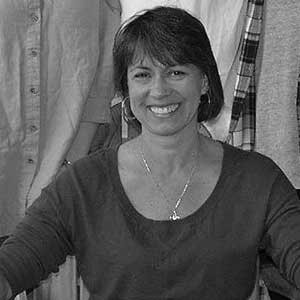 Donielda Tripp-Leino joins CHS as an academic advisor in the Department of Kinesiology and Health Sciences. She has professional experiences working in public, private, and non-profit organizations, including as a teacher in the Chesterfield and Henrico County Public School districts. Most recently, Donielda worked at VCU as a transfer advisor.
Donielda holds a B.S. in physical education from the University of North Carolina Greensboro and an M.Ed. from VCU in adult education and human resources development. She is not the only Ram in her family: Her husband John and daughter Marina are also VCU alumni. She also has another daughter, Ana, who attended the University of Mary Washington.
Donielda is a former student athlete – a dedicated swimmer – and teaches water aerobics at the local YMCA, as well as participates in Swim Across America - Richmond.
---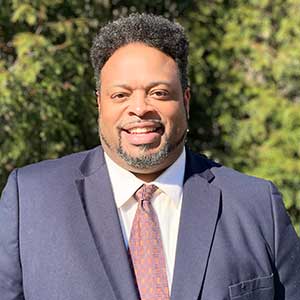 Michael Washington joins CHS as an academic advisor for the humanities and social sciences. Michael has worked in education for the past 20+ years. He held positions at the University of North Texas, the University of Arkansas (Fayetteville), the University of Arkansas at Pine Bluff and Georgia College (Milledgeville). In addition, Michael recently served as a success coach and adjunct instructor at Dallas College.
Michael has a B.S. in business administration from the University of Arkansas at Pine Bluff and a M.S. in education business technology from Arkansas State University.
He enjoys mentoring, reading and visiting family and friends. Michael's wife, Katy Washington, serves as chief accessibility officer at VCU. They recently moved to Virginia with their seven-pound Shih Tzu, Cuddles.