Loss of a beloved colleague, Matilde Moros
Aug. 18, 2023
Dr. Matilde ("Mati") Moros, an associate professor in the Department of Gender, Sexuality and Women's Studies, passed away on August 10, 2023.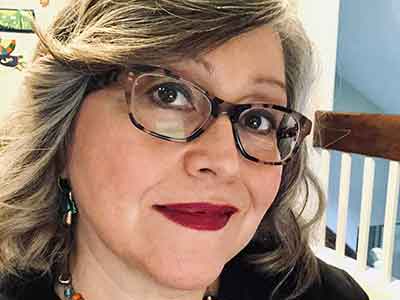 It is with profound sadness that we share the passing of our colleague Dr. Matilde ("Mati") Moros on August 10, 2023.
Mati joined the College of Humanities and Sciences in January 2015 as an adjunct instructor in the Department of Gender, Sexuality and Women's Studies. She was hired as a term assistant professor in August 2017 following a national search and was promoted to associate professor in May 2023.
Mati was born in Venezuela and raised between the U.S. and Latin America. Her upbringing as a binational member of a multicultural family led her in her transnational, decolonial, feminist work in religious social ethics. As a young child, she was exposed to human rights work in Latin America and later with Latin American migrants in the first Sanctuary Movement. Mati earned a Master of Divinity (M.Div.) degree in 2005 from the Princeton Theological Seminary, a Master of Theological Studies (MTS) degree in 1996 from the Harvard University Divinity School, and a Ph.D. in 2014 in religion and society (with a concentration in ethics) from Drew University. Prior to arriving at VCU, she held faculty appointments at Drew University, Princeton University, and the New Brunswick Theological Seminary.
Mati taught undergraduate and graduate courses in Gender, Sexuality and Women's Studies, including numerous course sections of the department's introductory, general education course (GSWS 201). In addition, she developed three upper-level interdisciplinary topics courses: Decolonial Feminisms, Latinx Feminisms, and Mujerista Ethics. She served on the CHS Faculty Council and co-chaired the Latinx Interest Group. She also served on the steering committee for VCU's Queer Research and Advocacy Collective (Q Collective).
As a social ethicist working in the field of gender, sexuality and women's studies, Mati brought an interdisciplinary approach to her teaching. Through her decolonial feminist pedagogy, she emphasized that students' lived experiences play a central role in facilitating individual and collective learning in the classroom. She viewed each student as a unique and respected contributor whose identities, background, and engagements with the world provide the context for understanding and applying theory. Mati sought to empower students to develop as critical thinkers who can imagine new possibilities, understand and navigate their worlds, and serve as agents of social change.
Mati's passion for teaching resonated in every aspect of her work. She deeply respected and cared for each and every one of her students, who in turn cherished the opportunity to learn with her. As a peer committee once wrote about her teaching: " . . . Dr. Moros approaches her students with kindness and patience while also pushing them outside of their comfort zones to engage critically and creatively with concepts, theories and texts." Mati was a talented teacher, scholar, and activist; she also worked diligently to mentor and encourage newer colleagues, seeing and nurturing the strengths in others. She was a person of incredible warmth, humor, and kindness–one who made a tremendous impact on her students and colleagues here at VCU and far beyond. For more information on Mati's remarkable life and work, please see the bio she wrote for the department webpage.
Mati was diagnosed with kidney cancer and underwent a complicated and risky surgery in April 2021. She recovered well from the surgery and returned to teaching online in fall 2021. Quite recently, her health began to decline quickly.
Mati shared her last weeks with her children, her husband, her siblings, and their families. Mati's father and sister returned to the U.S. recently and were able to spend time with her. The family will soon announce information about a memorial service and ways to honor Mati. If you would like to receive updates, please complete this brief form so we can collate email addresses. The family has asked that all communication for the family be directed through her colleague Dr. Archana Pathak at aapathak@vcu.edu.