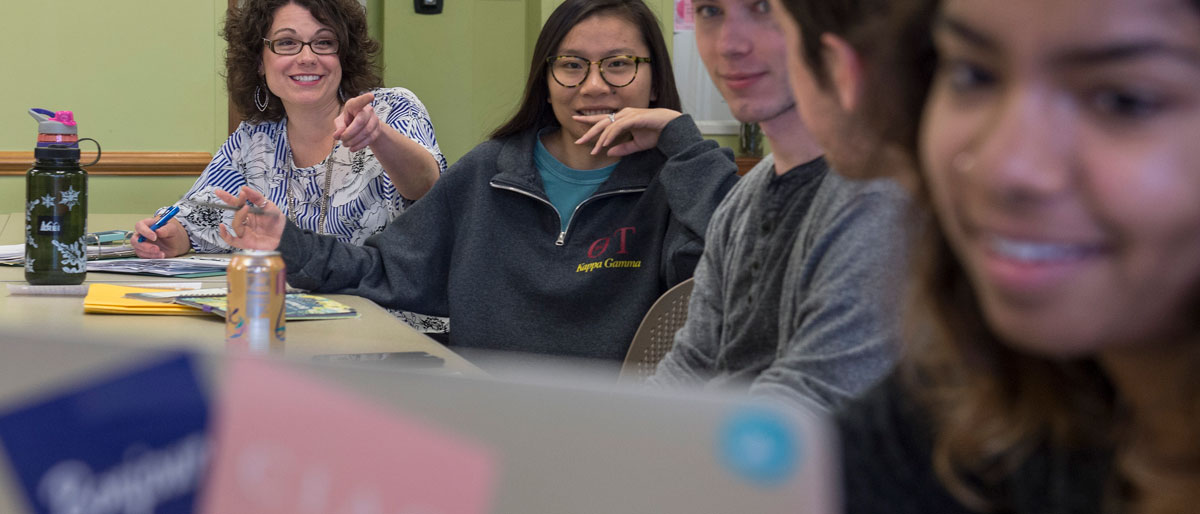 Leaders for Inclusive Learning Program
VCU prides itself on the diversity of our student body and the transformative educational experience VCU provides. As we look toward our post-pandemic world we need to consider that students who will join us in the near future will have had different experiences than the students of the past. They will have experienced more loss, more economic insecurity, greater inequality, and more mental health stress during their academic journey. At the same time, they will be more adept at online learning, have a more clear-eyed view of our country's history, and more drive to build a better future. The College of Humanities and Sciences (CHS) is dedicated to supporting this diverse group of students as they strive to achieve their — and their families' — dreams. As we plan for the future, we must continue our efforts to implement the best teaching practices that allow all students the best opportunity to flourish in our classrooms.
In partnership with the CTLE and the VCU HHMI Inclusive Excellence Initiative, the CHS Dean's Office invites participation in an innovative new program called Leaders for Inclusive Learning (LIL), where select faculty members will develop leadership skills and immerse themselves in current approaches for inclusive learning. The Leaders for Inclusive Learning will explore best practices on creating course curriculum and pedagogy that meet the learning needs of our diverse student body. Furthermore, they will work with their unit to create a long-term strategy for all faculty to engage with inclusive learning practices in their own classrooms.
Full-time faculty from all CHS units are invited to apply to become a Leader in Inclusive Learning. We expect to support ~25 participants. Successful applicants will have a documented history of success in undergraduate education and a demonstrated commitment to equity, inclusion, diversity, and access. The LIL role will be an important leadership role within CHS designed to promote faculty development in the home department/school. Although this program will certainly enhance each individual LIL faculty members' own pedagogical approaches, this group will engage in faculty development leadership that extends throughout their own department/school.
These individuals will:
Participate and collaborate in a structured LIL learning community rooted in inclusive learning (designed in collaboration with CTLE/HHMI)
Work with their departmental leadership to develop a long-term strategy for inclusive learning
Lead (or support an existing) peer mentoring program for faculty (including adjuncts or graduate teaching assistants were appropriate) centered on inclusive learning
The selected Leaders for Inclusive Learning will participate in the Summer 2021 Institute for Inclusive Teaching (a five-day workshop) and will serve as LILs from fall 2021 through spring 2023 (two years). They will participate in a structured faculty learning community (co-developed with CTLE/HHMI) during summer/fall 2021 that will result in the planning for a departmental strategy for inclusive teaching and learning to be executed in their home departments.
For attending the Institute on Inclusive Teaching in the summer of 2021, faculty will receive $500 for participating during summer 2021 and an additional $500 the next year for participating in follow-up assessment. During fall and spring, 2021-22 faculty participants will be expected to attend eight meetings (two hours each) per semester and complete some assignments/readings in between. We expect the academic year effort to total 90 hours. Faculty participants will receive either a one-time teaching load reduction OR a $4000 summer stipend (paid summer 2022).
Faculty can apply online by April 19, 2021. Faculty should submit their CVs, and a one-page statement reflecting on their experience and/or interest with undergraduate education, inclusive teaching and their commitment to equity, inclusion and diversity. They should share their vision for improving inclusion in our classrooms. Department chairs/school directors will be asked to support participation.
Proposed Timeline
March 22, 2021: Release call for applications to CHS faculty
April 19, 2021: Submission deadline for LIL applications
Summer 2021: Five-day Institute for Inclusive Teaching "kick-off" (virtual) [May 19-21 and August 9-10, attendance required]
Fall 2021: Biweekly LIL meetings/guest speakers - discussion sessions
January 2022: One-day retreat for LILs
Spring 2022: Biweekly LIL meetings/guest speakers - discussion sessions
May 2022: Celebration event to CHS/VCU
Fall '22 - Spring '23: Implement faculty development in your unit (may be in collaboration with previous and ongoing efforts)
Questions
Sarah Golding, Ph.D.
segolding@vcu.edu