Staff Profile: Melissa Siebert, Academic Adviser
March 17, 2020
"Students can feel disconnected here. VCU is a big, urban campus. One thing that advisors can offer is a touch point, whether that's keeping students on track, coming up an overall academic plan, or just getting them across the graduation finish line."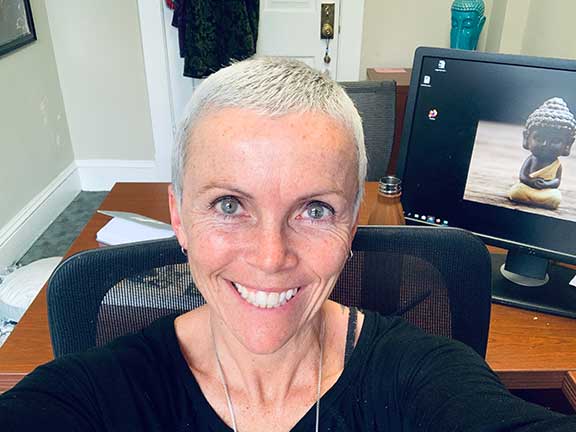 A background in counseling and social justice made Melissa Siebert the perfect fit for an academic advising position with the College of Humanities and Sciences. It was even more so when she found out that she would be handling the Departments of Gender, Sexuality and Women's Studies (GSWS), African American Studies (AFAM) and Philosophy. "With these departments, especially AFAM and GSWS, we have large populations of students with minority identities. That brings up a number of potential issues, whether that is struggles with self-acceptance or dealing with overt forms of discrimination," explains Melissa. "It's important to have someone who can understand those struggles because those issues definitely impact their academics. I feel that I understand these students from a more holistic perspective."
Melissa received her counseling degree in from NC Central University, an HBCU. Her career path started in the non-profit sector and eventually led to work with at-risk high school students. "I am a social justice advocate at heart and have always been involved in some way in social change work," Melissa says. "One of my proudest accomplishments was starting a non-profit organization called Safe Schools NC that worked on educating public schools in North Carolina about LGBTQ issues. I'm really excited that the organization still exists and is doing great work!" A new job opportunity for her former spouse brought Melissa to Richmond and VCU.
Day-to-day, you can find Melissa meeting with students, working in the Navigate advising software or analyzing data, such as midterm grades and attendance records. "Students can feel disconnected here. VCU is a big, urban campus. One thing that advisers can offer is a touch point, whether that's keeping students on track, coming up an overall academic plan, or just getting them across the graduation finish line."
And students really appreciate her help. "Before meeting Melissa, graduation seemed so far away and so hard to do," shares Issac Norris, a junior double majoring in AFAM and GSWS. "Now I have a class schedule for each semester planned. It makes it much easier to focus on the classes I'm taking currently. Melissa is also so friendly and open to talk about anything that is happening in my life. I don't feel anxious about making appointments anymore because I honestly feel like advising has my back."
Melissa is also aware that advising is about the future, what happens once those students walk across the graduation stage. She is currently assisting the AFAM and GSWS departments with building a robust internship/community partner program. She hopes this program will provide students with the opportunity to put into practice the skills and knowledge they are learning in the classroom. She also hopes that this program will help with both the hard and soft skills students need to be successful in the professional world.
"Many of my students are uncertain about what to do with their degrees, so this program will hopefully help them think outside of the box about all of the possibilities and prepare them for the next step," she says. "My students are all deep thinkers with a passion for making the world a better place. I can't wait to see what they accomplish after VCU."