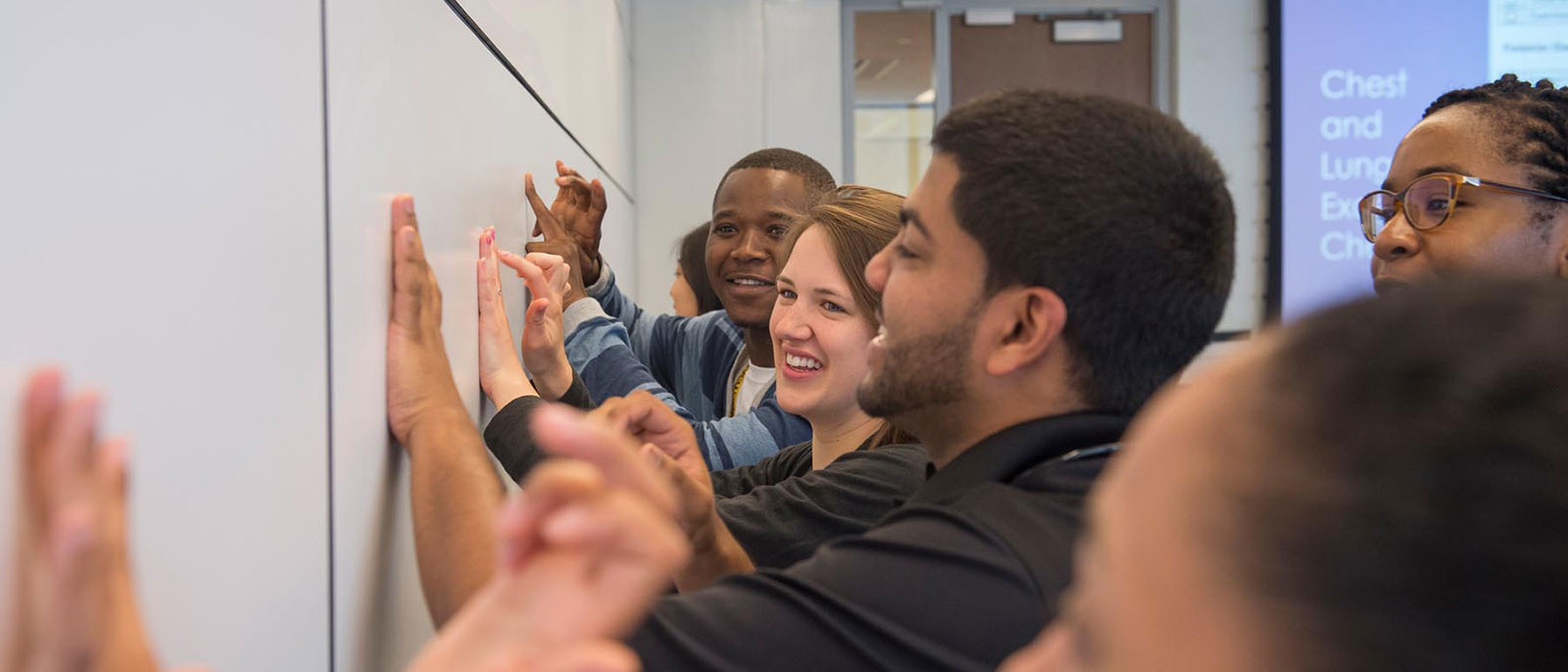 Impact Awards
Virtual Info Session
Friday, Oct. 28
Applications Due
Monday, Nov. 7
11:59 p.m.
Decisions Announced
Monday, Nov. 14
The College of Humanities and Sciences is sponsoring at least 17 re-engagement grants of $3,500 planned to result in the creation and implementation of innovative and sustainable practices in the classroom that lead to increased student retention, heightened engagement and improved teaching and learning.
The grants are designed to devise scalable strategies to engage or re-engage students across all disciplines and, in turn, cultivate a group of faculty dedicated to modeling best practices in the classroom and laboratory. All faculty–term, tenure, tenure-eligible and adjuncts who have taught for a department more than four semesters–may apply for these grants. We strive for at least one recipient from each academic unit department in the College of Humanities and Science. At least five of these grants will be given to faculty who will teach in the new CHS building on Franklin Street in fall 2023.
We seek applications that incorporate new or refined practice(s) into existing course(s) in a way that specifically responds to new and existing challenges in higher education. The practice or innovation should be scalable within other courses in the department or academic unit as appropriate, so small teams of faculty are encouraged to apply. Recipients should be prepared to share their ideas with their colleagues and the College at large. While any course(s) can be used in the application, we particularly seek courses with a consistent enrollment (perhaps a general education course or a required course within the major) and/or courses which have high DFW rates. We would also encourage proposals that modify courses to better engage historically underserved students who traditionally face inequities in educational contexts.
Applications might propose experimenting with new practices within the classroom (virtual or f2f), creating new models based on successful innovations (e.g. high-impact practices, vertically integrated projects, applied learning, undergraduate research), using technology in strategic ways, redefining the meaning of hybrid classes, enhancing experiential learning, use of peer-learning models or exploring the use of the mini-mesters to enhance opportunities for learning or paired courses.
The recipients of the grant would pilot the innovation in the spring 2023 semester and then implement it again in the fall 2023. Recipients would meet as a group at least twice in the spring 2023 semester (beginning and end) to share ideas and best practices (with the recognition they will have disciplinary differences). They will then have the opportunity to share their approaches with the wider CHS community at the end of the spring semester and then again fall 2023. Faculty can access the funds as either faculty development funds or a stipend.
All are encouraged to apply. To ensure an equitable distribution of resources, preference will be given to those who have not received other CHS-sponsored awards (Growth Awards, for example). Applications [Google Form] will be due on Monday, November 7 and decisions made by November 14.
We plan to continue these re-engagement grants that in the fall 2023 so that a new cohort of faculty can apply for the next round of re-engagement grants to build on the work of, and in turn work with, the first cohort enabling us to assess scalability, sustainability and effectiveness in enhancing student engagement and retention.
2023 Recipients
Rebecca Gibson, Ph.D. (Anthropology)
Sierra Beecher, Ph.D. (Biology)
Jaclyn Vick, Ph.D. (Biology)
Cara Cario, Ph.D., and Jennifer Olson, Ph.D. (Biology)
Gastón I. Jofre Rodríguez, Ph.D. (Biology)
Jody Cox, Mason Hester and Aimee Ellington, Ph.D. (Math)
Oyita Udiani, Ph.D., Rani Satyam, Ph.D., and David Chan, Ph.D. (Math)
Caddie Alford, Ph.D. (English)
Daniel Morales, Ph.D. (History)
Danielle Kirkman, Ph.D., and Matthew Scott (Kinesiology and Health Sciences)
Nicholas Wong, Ph.D. (Math)
Jessica Trisko Darden, Ph.D. (Political Science)
Amanda Wintersieck, Ph.D., and Allie Reckendorf, Ph.D. (Political Science)
Chris Burdett, Ph.D., and Bill Newmann, Ph.D. (Political Science)
Ellen Carpenter, Ph.D. (Psychology)
Judith W. Crenshaw (Robertson)
Tim Bajkiewicz, Ph.D. (Robertson)
Mariam Alkazemi, Ph.D. (Robertson), and Julie Zinnert, Ph.D. (Biology)
Frankie Mastrangelo, Ph.D. (Sociology)