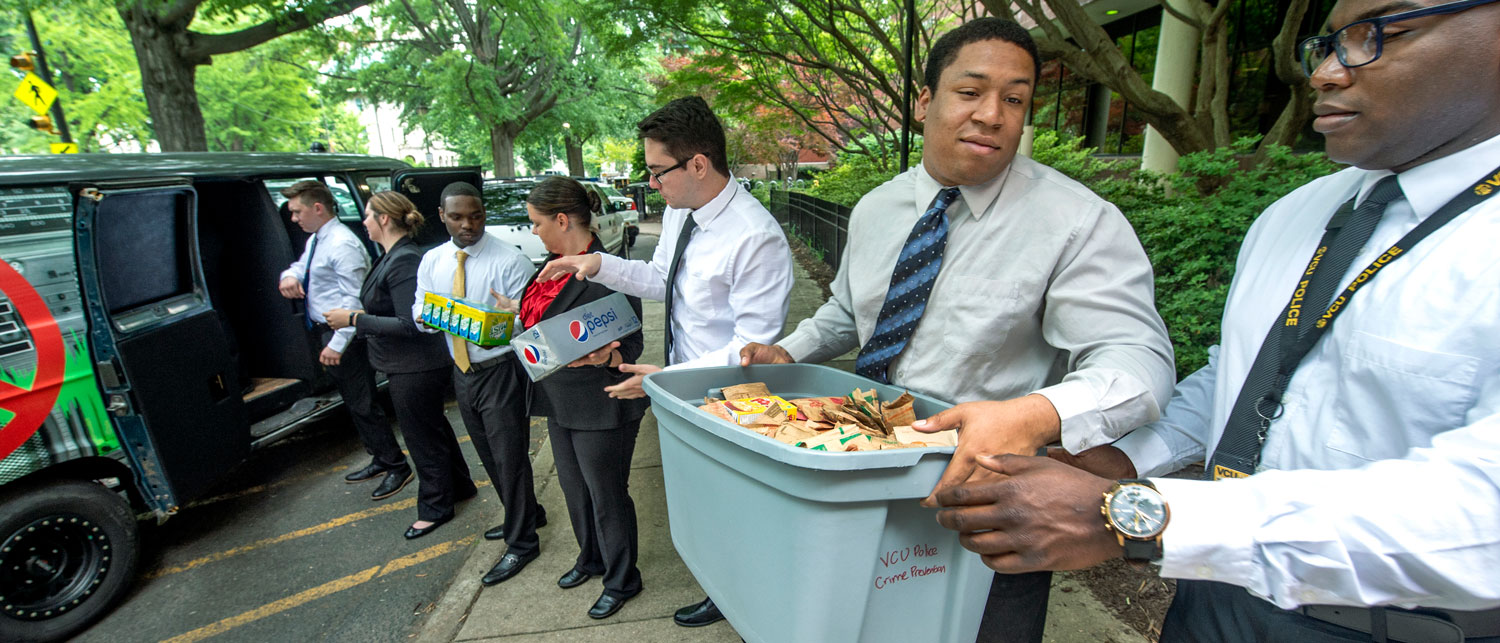 Community Engagement
16 hours
Amount of paid leave CHS faculty and staff can receive for community service each calendar year
24.6%
Percentage of eligible CHS employees who used their leave in 2019-20
594
Number of volunteer hours used by eligible CHS employees in 2019-20
Community engagement is part of our identity in the College of Humanities and Sciences. Not only are we engaged and contributing citizens in our local community, but we are also the recipients of an array of resources and services provided by the dynamic and vibrant Richmond metro community.
CHS's partnerships and engagement extend from students in experiential learning classes and involvement of staff, students and faculty in civic and volunteer activities, to social activism and faculty and students conducting community-engaged research. We partner with community organizations to address and provide creative solutions to problems. See below for more information.
Get Started
Explore community engagement opportunities
The VCU Center for Community Engagement and Impact web page connecting VCU employees with volunteer opportunities that support Richmond's communities
CHS Equity, Inclusion and Diversity Resources
A page in the CHS faculty/staff resources site that contains a section listing local organizations
Community Action Council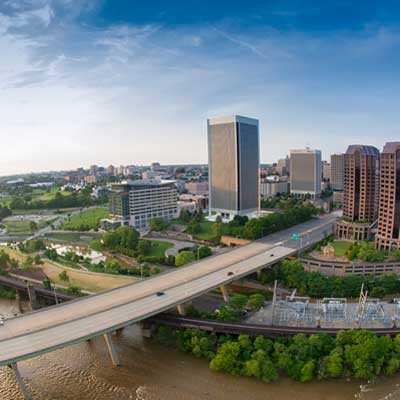 The overall mission of College of Humanities and Sciences Community Action Council is to advance partnerships between faculty, staff and students within CHS and local community organizations, businesses and governmental entities.
The Community Action Council works closely with CHS faculty, staff and students to:
set an agenda and prioritize initiatives around community engagement in the community and the College
identify disparities and social justice inequities within the community and ways to reduce these
provide feedback to administrators, faculty and staff on activities and initiatives related to community engagement
identify opportunities for students to work with organizations, and other entities within the metro Richmond community
help to identify resources for CHS and community organization
Visit the Community Action Council page to view and learn more about its members.
Volunteer Spotlight
"As a former volunteer leader for HandsOn Greater Richmond, I'm always on the lookout for opportunities that might be a good fit for my skill set. I had previously heard about Virginia's Medical Reserve Corps, a national program which was established back in 2002 to help organize local volunteers, but had always assumed some medical training would be required. I came across a news story late last year about how they desperately needed additional non-medical volunteers to assist with the upcoming vaccine rollout so I signed up. The onboarding process was fairly straightforward and I was pleased to see that they had taken full advantage of all the new web conferencing technologies for conducting trainings and workshops so fortunately I was up and running fairly quickly.
My first volunteer event was over at the Arthur Ashe Athletic Center in early February. As soon as I walked in the door, the project lead for the event was having issues with the laptop she was using to print our badges so I sprung into action to help troubleshoot the issue. My actual assigned responsibility for the rest of the day was walking around with a tablet device assisting people with scheduling their second shot. This was very early in the rollout so being around that many people still felt quite strange but despite all that it was truly wonderful to see folks feeling happy and hopeful again after such a long difficult period.
I volunteered a few more times at Arthur Ashe throughout the spring, typically handling the same responsibilities but they kept changing the software and the interface on us so that helped to keep us all on our toes. More recently I have volunteered at the walk-in vaccination events being held at George Wythe High School and I'm planning to assist further with some outreach efforts. I have truly valued the entire experience and certainly encourage others to consider signing up to volunteer in the future (students are welcome too!)."
Definitions
Community Engagement

The Carnegie Foundation defines community engagement as a "collaboration between institutions of higher education and their larger communities (local, regional/state, national, global) for the mutually beneficial exchange of knowledge and resources in a context of partnership and reciprocity. The purpose of community engagement is the partnership of college and university knowledge and resources with those of the public and private sectors to enrich scholarship, research, and creative activity; enhance curriculum, teaching and learning; prepare educated, engaged citizens; strengthen democratic values and civic responsibility; address critical societal issues; and contribute to the public good."

Community-Engaged Participatory Research

A partnership approach to research that equitably involves community members, organizational representatives and academic researchers in all aspects of the research process. It enables all partners to contribute their expertise, with shared responsibility and ownership; it enhances the understanding of a given phenomenon; and, it integrates the knowledge gained with action to improve the health and well-being of community members, such as through interventions and policy change (Israel, Schulz, Parker, and Becker, 1998).

Community-Engaged Learning

A type of experiential learning that takes place within community settings. Students engaged in community-engaged learning work with and learn from a community partner; integrate community experiences with academic information; have a focus on a specific community or community organization's concern; and include structured, organized and documented activities.

Service Learning

A form of community-engaged education which refers to the use of community service as an integral part of the pedagogical process. Such service is used to enhance student learning with direct ties to academic content (Chupp & Joseph, 2010).
Volunteer Spotlight
"Volunteerism is a family tradition. My parents made my brothers and sisters volunteer most of our childhood. Even after my mother retired, she started volunteering for Meals on Wheels delivering food to people. Between 2003 and 2009, I volunteered at Deep Meadow Correctional Facility in Powhatan tutoring inmates in reading literacy. Over the last 17 years, I have been a volunteer with the Minority Health Consortium (MHC) of the Metro Richmond area. I have had extensive training to test and counsel clients for HIV, STIs and hepatitis C. I have also worked at Baragwanath Hospital in Soweto, South Africa, doing HIV testing and counseling under the auspices of the AIDS Consortium in that country. That work resulted in my book, "Through the Voices of Men: South Africans Speak About HIV."
More recently, I have also led HIV training sessions in and around Nairobi, Kenya, under the auspices of the Child Fund International (formerly known as the Christian Children's Fund). Between 2013 and 2016, I did similar work in Mali under the auspices of a women's rights group, Keneyaton and the Cheick Mansour Haidara Foundation in Ségou, Mali. That work resulted in my book, "The Most Vulnerable: Women, HIV, and Islam in Mali."
I am also a member of the Richmond/Petersburg Black Treatment Advocates Network sponsored by the Black AIDS Institute. This organization, along with the MHC, seeks to reduce health disparities, especially regarding HIV and African Americans. In addition to testing and counseling, I participate in education and awareness events hosted by these organizations."
Community Engagement Highlights
April 4, 2022
The event will feature Khushnood Nabizada, a journalist and former diplomat, and Mahbob shah Mahbob, Ph.D., an educator and former journalist.
April 1, 2022
"We're the little guys," said one organization's founder while expressing gratitude after students shared their vision for her organization and three other 'scrappy' nonprofits in the creative sprint's 15th year.
March 18, 2022
A VCU history professor is part of a team that has worked for years to win state and federal recognition of the Shockoe Hill African Burying Ground.