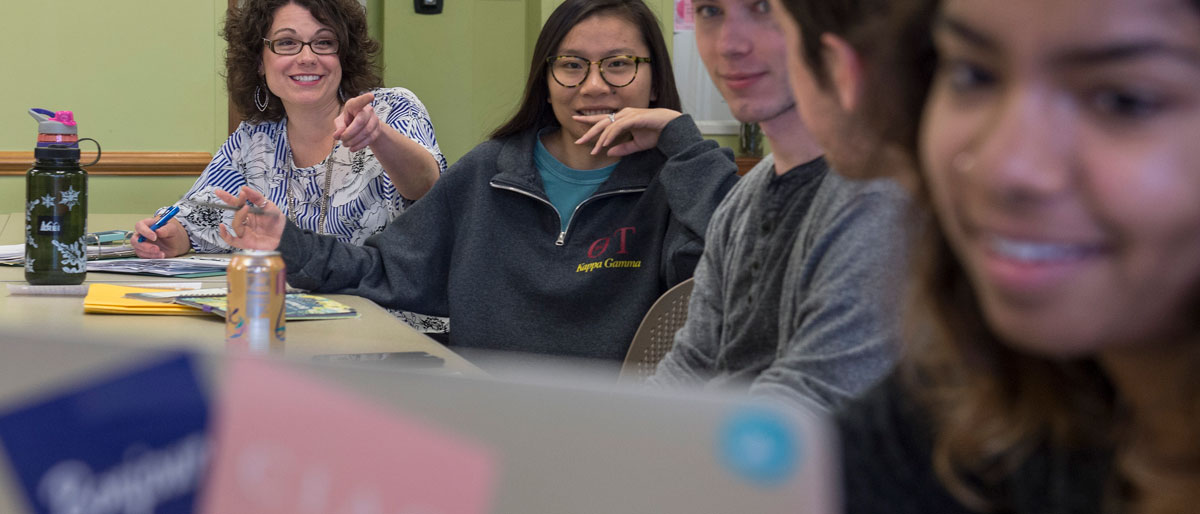 Leaders for Inclusive Learning Program
VCU prides itself on the diversity of our student body and the transformative educational experience VCU provides. As we look toward our post-pandemic world we need to consider that students who will join us in the near future will have had different experiences than the students of the past. They will have experienced more loss, more economic insecurity, greater inequality and more mental health stress during their academic journey. At the same time, they will be more adept at online learning, have a more clear-eyed view of our country's history, and manifest a greater drive to build a better future. The College of Humanities and Sciences (CHS) is dedicated to supporting this diverse group of students as they strive to achieve their — and their families' — dreams. As we plan for the future, we must continue our efforts to implement the best teaching practices that allow all students the best opportunity to flourish in our classrooms.
In partnership with the CTLE and the VCU HHMI Inclusive Excellence Initiative, the CHS Dean's Office supports an innovative new program called Leaders for Inclusive Learning (LIL), where select faculty members develop leadership skills and immerse themselves in current approaches for inclusive learning. The Leaders for Inclusive Learning explore best practices on creating course curriculum and pedagogy that meet the learning needs of our diverse student body. The LIL group learns about personal, structural and institutional bias that may contribute to disparities in student persistence. Furthermore, they work with their unit to create a long-term strategy for all faculty to engage with inclusive learning practices in their own classrooms.
The purpose of the LIL program is for faculty to learn, practice and implement inclusive teaching and to work with their departments as peer faculty mentors on inclusive learning to help lead intentional change across our largest College. The goal is to increase a sense of belonging on campus, increase student persistence and support student success for those who are at most risk of adverse outcomes due to institutional bias.
Program Participants
Twenty-five full-time faculty from across the CHS are participating during the 2021-22 academic year.
Leads
Sarah Golding, Associate Professor of Biology, and Special Assistant to the Dean
Kim Case, Professor of Psychology and Director of Faculty Success, Office of the Provost
Allison Johnson, Associate Professor in the Center for Biological Complexity, and Director of VCU HHMI Inclusive Excellence
Participants
Madhumita Basu, Statistical Sciences and Operations Research
Christine Booker, Kinesiology and Health Sciences
Kai Bosworth, School of World Studies
Cara Cario, Biology
Ellen Carpenter, Psychology
Eli Coston, Gender, Sexuality and Women's Studies
Judi Crenshaw, Robertson School of Media and Culture
Jody Davis, Psychology
Punit Gandhi, Mathematics and Applied Mathematics
Grace Gipson, African American Studies
Joseph Hamelman, Mathematics and Applied Mathematics
Ching-Yu Huang, Biology
Kevin Brosnan, Philosophy
Jonathan Moore, Biology
Amanda Harris, Chemistry
Kate Nash, English
Heather Nunnally, Mathematics and Applied Mathematics
Matthew Pawlowicz, School for World Studies
Alexandra Reckendorf, Political Science
Angela Reynolds, Mathematics and Applied Mathematics
Samanthi Wickramarachchi, Physics
Matthew Scott, Kinesiology and Health Sciences
Aytar Volkan, Sociology
Maria Carolina Yaber, Biology
Dexian Ye, Physics